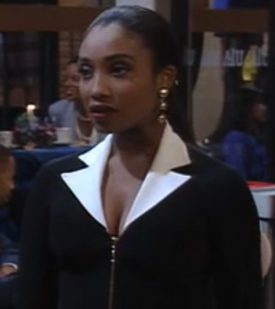 Jo Ann Morgan appeared in "It's Better to Have Loved and Lost It...," the fifth episode of Season 4, serving as the villainess of the episode. She met Carlton Banks at the campus, and they ended up going on a date. The date ended with Jo Ann and Carlton at her hotel room, which Jo Ann invites Carlton into. The two engaged in a sexual encounter, leaving Carlton elated that he has finally lost his virginity, and very much in love with Jo Ann.
However, during a discussion with Dean Morgan (who could get Carlton into Princeton), Carlton is heartbroken to learn that Jo Ann is the dean's wife, and is surprised when he sees her walk in and embrace her husband. Jo Ann stated to Carlton that she and the dean were separated, but they were getting back together. Regarding her tryst with Carlton, Jo Ann stated, in so many words, that she was using Carlton for a one-night stand.
Ad blocker interference detected!
Wikia is a free-to-use site that makes money from advertising. We have a modified experience for viewers using ad blockers

Wikia is not accessible if you've made further modifications. Remove the custom ad blocker rule(s) and the page will load as expected.