Nicholas "Nicky" Banks
Talk

0
118pages on
this wiki
Nicky Banks
[[Image: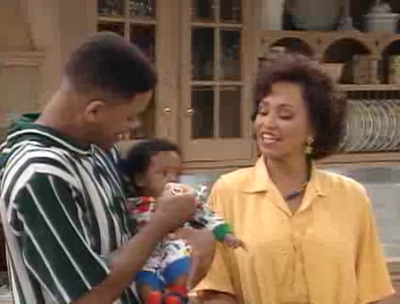 |200px]]
Statistics

Name
Nicholas "Nicky" Banks
Nickname
Lil Nicky
Known Relatives
Will Smith (favorite cousin)


Philip Banks (father)
Vivian Banks (mother)
Hilary Banks (older sister)
Carlton Banks (older brother)
Ashley Banks (older sister)
Hattie Banks (paternal grandmother)
Vy Smith (maternal aunt)
Lou Smith (maternal uncle)
Helen Smith (maternal aunt)
Lester (maternal uncle)
Bobby (maternal cousin)
Janice Smith (maternal aunt)
Frank (maternal uncle)

Portrayed by 
Ross Bagley
Nicholas Banks is Will's little cousin and Uncle Phil's and Aunt Viv's youngest child. Born in Season 3.
Niko Andrew Michael Shawn Nathan Wanya Banks (Played by Ross Bagley from Season 5 onward) is born to Philip and Vivian on February 22, 1993, towards the end of the third season. Except by one episode, when Carlton calls him "Nicholas", every member of the family calls him by his nickname, Nicky.
The character was primarily used as a plot device, often adding motivation for other characters, comic relief, or an emotional punch to the show's storyline. In the fifth season, Nicky grows from a newborn infant to a preschooler, which is common in television series and soap operas. In the first episode to feature this change, Jazz expresses amazement while Will just stares uneasily into the camera.

His last four middle names are the names of the Boyz II Men members; he was middle-named this way after they performed at his christening.
When Will was dragged back to Bel-Air from Philidelphia by contractors, Nicky grew 2 years older eversince he was a baby. Nicky often appears in some episodes in seasons 5 and 6.
Images of Nicky played by different kids and infants
Edit
Will holding cute little baby Nicky

Nicky at age 4

Nicky looks different but cuter

Hello Nicky

Nicky as a cute little 5 year old.

Time to come out Nicky

Aww, so cute

This kid is sprouting.
Different versions of Baby Nicky
Edit
Appearances of 5 year old Nicky
Edit