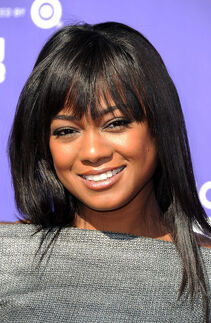 Tatyana Marisol Ali (born January 24, 1979, Brooklyn, New York) is an African-American actress and R&B singer. She is known for her role as Ashley Banks on "The Fresh Prince of Bel-Air."
Early Life\Career
Edit
Tatyana was born to an Afro-Panamanian mother who was a nurse and an Indo-Trindadian father. She has two younger sisters Anastasia and Kimberly.
Tatyana started her career when she was 6 years old, starring on "Sesame Street" as a regular child performer in 1985. She has also appeared on "Star Search" two times. Tatyana starred in the 1987 movie, "Eddie Murphy Raw" as Eddie's sister in a segment. A year later, she starred in "Crocodile Dundee II" as a girl at the park and on the video "Wow, You're a Cartoonist."
Tatyana also starred in a television special called "Wally and the Valentines." She guest-starred on shows such as "The Cosby Show," "A Man Called Hawk," "Getting By," and "Are You Afraid of the Dark?"
After "Fresh Prince of Bel-Air"
Edit
Tatyana finished up school and attended Harvard University. She graduated in 2002 with a bachelor's degree in political science and African-American studies.
Music Career
Edit
Filmography
Edit
Film
Year
Title
Role
Notes
1987
Eddie Murphy Raw
Eddie's Sister
Sketch Segment
1988
Crocodile Dundee II
Park Girl
1988
Wow, You're a Cartoonist!
Child Cartoonist
Short film
Direct-to-Video release
1997
Fakin' da Funk
Karyn
1997
Kiss the Girls
Janell Cross
1998
The Clown at Midnight
Monica
1999
Jawbreaker
Brenda
2000
Brother
Latifa
2001
The Brothers
Cherie Smith
2003
National Lampoon Presents Dorm Daze
Claire
2004
Nora's Hair Salon
Lilleana
2005
Back in the Day
Alicia Packer
2005
Domino One
Laeticia Richards
2006
Glory Road
Tina Malichi
2006
A Warm Place
Clair Andrews
Short film
2007
The List
Cynthia
2008
Nora's Hair Salon 2: A Cut Above
Lilleana
2008
Hotel California
Jessie
2009
Mother and Child
Maria
2010
Privileged
Talia
awaiting release
2010
Locker 13
Lucy
awaiting release
2010
The Misguided Adventures of Dating in Hollywood
Troi
pre-production
Television
Year
Title
Role
Notes
1985,
1990
Sesame Street
Tatyana
4 episodes
1989
Wally and the Valentines
Jamaica Valentine
TV Special
1989
A Man Called Hawk
Michelle
Episode: Life After Death
1989
The Cosby Show
Girl
Episode: "Shall We Dance?"
1990–
1996
The Fresh Prince of Bel-Air
Ashley Banks
148 episodes
1993
Getting By
Nicole Alexander
Episode: "Turnabout Dance"
1994
Are You Afraid of the Dark?
Laura Turner/Connie Turner

Episode: "The Tale of the Quicksilver"

1994
TV's Funniest Families
Host
TV-Special
1995
In the House
Ashley Banks
Episode: "Dog Catchers"
1996
Living Single
Stephanie James
Episode: "Whatever Happened to Baby Sister?"
1996
Kidz in the Wood
Rita
TV-Movie
1996
Fall Into Darkness
Sharon McKay
TV-Movie
1997
413 Hope St.
Kai
Episode: "Heartbeat"
2002
Fastlane
Shelly
Episode: "Girls Own Juice"
2003
Half & Half
Olivia
Episode: "The Big Condom-nation Episode"
2007
On the Lot
Girl
Episode: 11 Cut to 10 & 10 Directors Compete (Segment: "First Sight")
2007–2010
The Young and the Restless
Roxanne
2010–
present
Love That Girl!
Tyana Jones
Lead role
Discography
Edit
Personal Life
Edit
Ad blocker interference detected!
Wikia is a free-to-use site that makes money from advertising. We have a modified experience for viewers using ad blockers

Wikia is not accessible if you've made further modifications. Remove the custom ad blocker rule(s) and the page will load as expected.