The Fresh Prince Of Bel-Air

Genre
Sitcom
Created by
Andy Borowitz
Susan Borowitz
Starring
Will Smith
James Avery
Alfonso Ribeiro
Tatyana Ali
Karyn Parsons
Joseph Marcell
Janet Hubert-Whitten
Daphne Maxwell Reid
Ross Bagley
Country of origin
United States
No. of seasons
6
No. of episodes
148
Production
Executive producer(s)
Quincy Jones
Andy Borowitz
Susan Borowitz
Kevin Wendle (Season 1)
Winifred Hervey (Seasons 2–3)
Gary H. Miller (Season 4–5)
Cheryl Gard (Mid-Late Season 5)
Jeff Pollack
Will Smith (Season 6)
Running time
23 minutes
Production company(s)
The Stuffed Dog Company
Quincy Jones Productions (seasons 1–3)
Quincy Jones/David Salzman Entertainment (seasons 4–6)
NBC Productions
Warner Bros. Television
Distributor
Warner Bros. Television Distribution (1994–present)
Release
Original network
NBC
Picture format
4:3 (SDTV)
720 (HDTV)
Original release
September 10, 1990 – May 20, 1996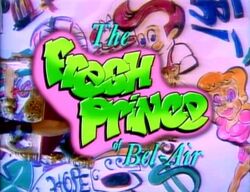 The Fresh Prince of Bel-Air is an American television sitcom that originally aired on NBC from September 10, 1990 to May 20, 1996. The show stars Will Smith as a fictionalized version of himself, a street-smart teenager from West Philadelphia who is sent to move in with his wealthy aunt and uncle in their Bel-Air mansion after getting into a fight at a local basketball court. In the series, his lifestyle often clashes with the lifestyle of his relatives in Bel-Air. The series lasted for six seasons and aired a total of 148 half-hour episodes.
The series was produced by The Stuffed Dog Company, Quincy Jones Productions (Seasons 1-3) and Quincy Jones/David Salzman Entertainment (Seasons 4-6) in association with NBC Productions (now Universal Television) and distributed by Warner Bros. Television. The show debuted on NBC network on September 10, 1990, and ranked among the top 30 programs for four seasons before sliding in popularity. Ratings declined sharply during the final two seasons, and the last seven episodes aired on May 20, 1996.
Development
Edit
Will Smith, a popular rapper during the late 1980s, was approached by NBC in December of 1989.
The pilot episode began taping on May 1, 1990. Season 1 production began in July 1990 with #446802, and ended in March 1991 with #446824. The series finale was filmed on Thursday, March 21, 1996, specifically with production codes #60122 and #60123.
The theme song "Yo Home to Bel-Air" was written and performed by Smith as "The Fresh Prince." The music was composed by QDIII (Quincy Jones III), who was credited with Smith at the end of each episode. The music often used to bridge scenes together during the show is based on a similar chord structure. The full version of the theme song was used unedited in the first three episodes. The full-length version, which is 2:52, was included on Will Smith's Greatest Hits album and attributed to him only. A 3:23 version was released in the Netherlands in 1992, reaching #3 on the charts.
The mansion used for the exterior shots of "the Banks mansion" is a house located at 251 North Bristol Avenue, Los Angeles, CA 90049, which was built in 1937.
Interiors were shot on a sound stage on pre-made sets. After Season 1, the mansion sets were completely rebuilt. In Season 2, the kitchen and living room sets were rebuilt much larger with a more contemporary style as opposed to the much more formal style of the first season, and were connected directly by an archway, allowing scenes to be shot continuously between the sets.
The theme song and opening sequence is set to the premise of the show. Will Smith is a street-smart teenager, born and raised in West Philadelphia. While he is playing basketball, Smith loses a shot, and the basketball is tossed at a group of people, which causes a confrontation, frightening Will's mother, causing her to send her son to live with his aunt and uncle in the town of Bel-Air, Los Angeles. He flies from Philadelphia to Los Angeles on a one-way ticket in first class. He then whistles for a taxi that is described in the opening sequence as having a vanity plate with the word "FRESH" on it. He pulls up into the house about 7 or 8, and he yells to the cabby "Yo homes smell you later." He looked at his kingdom; he was finally there to sit on his throne as the prince of Bel-Air.
Cast and characters
Edit
Main supporting characters
Edit
Episodes
Edit
Main article: Episodes
Season
Episodes
First air date
Last air date
Network
Season 1
25
September 10, 1990
May 6, 1991
NBC
Season 2
24
September 9, 1991
May 4, 1992
Season 3
24
September 14, 1992
May 10, 1993
Season 4
26
September 20, 1993
May 23, 1994
Season 5
25
September 19, 1994
May 15, 1995
Season 6
24
September 18, 1995
May 20, 1996
Crossovers and other appearances
Edit
During the fall 1991-92 season, NBC gained two hit television shows to anchor their Monday night line-up (Blossom aired immediately after The Fresh Prince of Bel-Air). To gain popularity between the two shows, Will Smith appeared in an episode as himself under the rap persona of The Fresh Prince. Several episodes later, Karyn Parsons showed up in an episode of Blossom as Hilary Banks. Parsons also appeared in the Patti LaBelle sitcom, Out All Night as her Fresh Prince character.
In the House and Fresh Prince were both executive produced by Winifred Hervey, David Salzman and Quincy Jones. During the second season's first episode, Alfonso Ribeiro and Tatyana Ali appeared as their Fresh Prince characters (Carlton and Ashley Banks) in the crossover episode "Dog Catchers." Later that season, James Avery (Phillip Banks) appeared as a mediator in the episode "Love on a One-Way Street." In the Season 4 episode "My Pest Friend's Wedding," James Avery and Daphne Maxwell Reid (Vivian Banks) guest starred as Dr. Maxwell Stanton's parents. Both Avery and Reid portrayed the parents of Ribeiro's Fresh Prince character. Joseph Marcell, who played the wisecracking Geoffrey Butler on Fresh Prince, also appeared as an officiating minister in the same episode.
Syndication
Edit
The series was originally an NBC production in association with The Stuffed Dog Company and Quincy Jones Entertainment. After The Fresh Prince of Bel-Air was released to syndication in 1994, the series has been distributed by Warner Bros. Television Distribution, which continues to distribute the show worldwide although NBCUniversal does own the series' copyright. WGN America became the first cable channel to pick up The Fresh Prince of Bel-Air in 1997. TBS picked up The Fresh Prince of Bel-Air a year later in 1998; both channels picked up The Fresh Prince of Bel-Air until the fall of 2003, though TBS picked up The French Prince of Bel-Air again in 2007. The theme song was shown in the original TBS run, but after TBS picked up The Fresh Prince of Bel-Air again in 2007, the opening credits were cut short and the theme song was trimmed off, and they changed it to the instrumental version, which was used as the show's closing theme; these versions also re-added portions of scenes that they were omitted from the original syndicated prints for some episodes, particularly those from seasons 3-6. TBS continued to air the series up until September of 2014. Reruns also aired on WPIX-TV on weeknights from 1994 until 1996, and as a weekday basis, sometimes on weekends until 2004.
In 2004, Nick at Nite picked up The Fresh Prince of Bel-Air, and continued to air until 2009, as well as sister network through Nickelodeon The N, now TeenNick, with portions of scenes that were omitted from other syndicated airings, with portions of scenes kept in other syndicated airings they were omitted from due to time constraints. The Fresh Prince of Bel-Air was removed from its schedule in September 2009 after Disney/ABC purchased the rights to the show. The show came back to Nick at Nite on September 29, 2014.
In July 2009, Disney XD picked up the rights to The Fresh Prince of Bel-Air, though it was quickly moved from prime-time to late night airings, and only episodes from seasons 1-3 are aired, mainly because those episodes are more appropriate for young viewers and does not consist of much mature themes, sexual content and strong language as later episodes. However, in August 2010, Disney XD discontinued airing The Fresh Prince of Bel-Air.
ABC Family, which is now called FreeForm picked up The Fresh Prince of Bel-Air in September 2008, though airing all 148 half-hour episodes; originally airing exclusively on Saturday nights, The Fresh Prince of Bel-Air was picked up by ABC Family's weekday line-up in late 2009. On September 29, 2014, Disney/ABC rights to the show expired. Viacom Media Networks got the series back.
In October 2014, Viacom Media Networks also gave the series to BET, and it would also air on Centric. It also currently airs on MTV's retro block. The series will also be set to air on MeTV in September 2018.
DVD release
Edit
Warner Home Video (Warner Archive Collection) has released the complete series, Seasons 1 to 6 on DVD in Region 1. Seasons 1 to 4 have been released in Regions 2 and 4. Seasons 5 and 6 have been released in Region 2 in Germany, and the complete series boxset in the United Kingdom. The episodes and DVD menus are in English; only the DVD packaging is in German.
| DVD Name | Ep # | Release Date |
| --- | --- | --- |
| The Complete First Season | 26 | February 8, 2005 |
| The Complete Second Season | 24 | October 11, 2005 |
| The Complete Third Season | 24 | February 14, 2006 |
| The Complete Fourth Season | 26 | August 8, 2006 |
| The Complete Fifth Season | 25 | May 11, 2010 |
| The Complete Sixth Season | 24 | April 19, 2011 |
Awards and nomination
Edit
See also
Edit
External links
Edit